Are you a fan of fancy bar cocktails that emit cool smoke as they are served? Now you can do that at home too. Thanks to all-in-one cocktail smoker kits available at various prices, it is easier than ever to smoke cocktails at home. If you already enjoy grilling and love to learn new things about mixology, then you will have fun learning about the process of cocktail smoking.
Cocktail smokers can take many forms, but the primary concept is 100 % the same. In all cocktail smokers, fire is used to add smoke to a drink while it is in a sawdust-filled box or under a dome. You can smoke any cocktail you want, even traditional cocktails and whiskey drinks too. The process results in a smoky or savory drink. Of course, the flavor is determined by the type of wood you are burning.
What is a cocktail smoker?
Cocktail smoking is a technique for adding smokey notes to cocktails by exposing the entire cocktail, individual components, or only the drinking glass to chilled smoke. Typically, a smoker gun, wood chips, a smoking cloche, and a glass mixing bowl are required. A glass mixing bowl lets you see what's going on.
How does a cocktail smoker work?
Moisture condenses very quickly on a cold glass. Thus, when a cold glass covers a burning heap of canella, smoke condenses on the moisture-covered sides of the glass. This allows everything in the smoke except the carbon particles and tar to dissolve in the moisture, adding to the flavor and eventual taste of the cocktail. An ice cube's film of water attracts and binds smoke in the same way.
Smoking cocktails add flavors, aromas, and textures to cocktails. If you've ever spent time near a grill at a barbecue, you know how that affects the smell of your shirt. Even though the grill doesn't heat it, the shirt absorbs the smoke's aromas, and you begin smelling like roasted turkey. Since 90% of flavor is the aroma, increasing the aroma of drinks leads to better flavor too.
By infusing smoke into a beverage, cocktails smokers help give drinks unique flavor notes. It also helps unlock hundreds of unique cocktail recipes to enjoy by yourself or entertain your buddies with during those get-togethers. The process is also sometimes known as cold smoking.
How should a cocktail smoker be used?
It is possible to smoke your cocktail in three different ways: smoke-rinse your glass, smoke-rinse the whole cocktail or double-boil a huge quantity. Which direction to go will be determined by the flavor you want to achieve.
Smoke-rinsing the glass
Smoke likes to adhere to chilly surfaces. Prepare your drink and light whatever you're using to add smoke. You could use a blowtorch if you prefer, but be careful not to use lighter fluid, which leaves chemical residues. Make sure the smoke adheres to the inside of the glass by turning it upside down. When the smoke clears, pour your cocktail and enjoy it nice and easy.
Smoke-rinsing the whole cocktail
Smoke-rinse the entire cocktail for a stronger smoke flavor. Repeat the methods for smoke-rinsing the serving glass, but this time use a larger vessel, such as a wine pitcher. Allow the smoke to fill the pitcher a bit after chilling it. Pour your made drink back into the vessel when the smoke level reaches the appropriate level. Don't wait for too long before pouring the cocktail back into the vessel because most of the smoke flavor starts to disappear after 30 minutes. Fill a glass with the liquid and enjoy.
Double-boiling a batch with a smoker or grill
Start by burning wood chips and flavors in a grill if you want the most intense flavor. Double-boil your drink by pouring it in a heat-proof bowl and then placing the bowl in an ice-filled bowl. That way, the drink won't heat up and change its flavor. Position the double-boiler to catch the smoke but not on top of the fire.
Even ice cubes can be smoked! Drinks can benefit greatly from smoked ice cubes. An ice cube's film of water attracts and binds smoke in the same way the moisture-rich sides of a cold serving glass do. Smoked ice cubes result in slight smokiness that isn't too overpowering.
Are cocktail smokers worth it?
The cocktail smokebox may be a good investment if you enjoy mixing flavors and giving new drinks a try. Smoke can enhance the flavor of your cocktail. The smoker also allows you to unlock hundreds of recipes to customize your drink. However, keep in mind that the flavor only lasts a short while. As a result, you should conduct extensive studies to choose a smoker appropriate for your home bar and demands.
How much do cocktail smokers cost?
Most cocktail smokers cost between $25 and $200, with the same basic components: a chamber where wood shavings are placed, a fan that pulls air through, and a tube that releases smoke.
Some smoking guns feature glass domes, aka cloches. The domes and the smoke tube are connected using a spigot. The glass dome is unnecessary; however, it makes the process eye-catching.
Consider your usage while deciding how much money you wish to spend. If you don't plan on smoking cocktails every day or with a large group of friends, don't get a high-end device. However, keep in mind that pricing often determines durability. Consider storage as well; if you don't have the space for a high-end smoking gun and dome, there are compact cocktail smoker kits available at much lower prices.
Introducing the best handcrafted cocktail smoker kit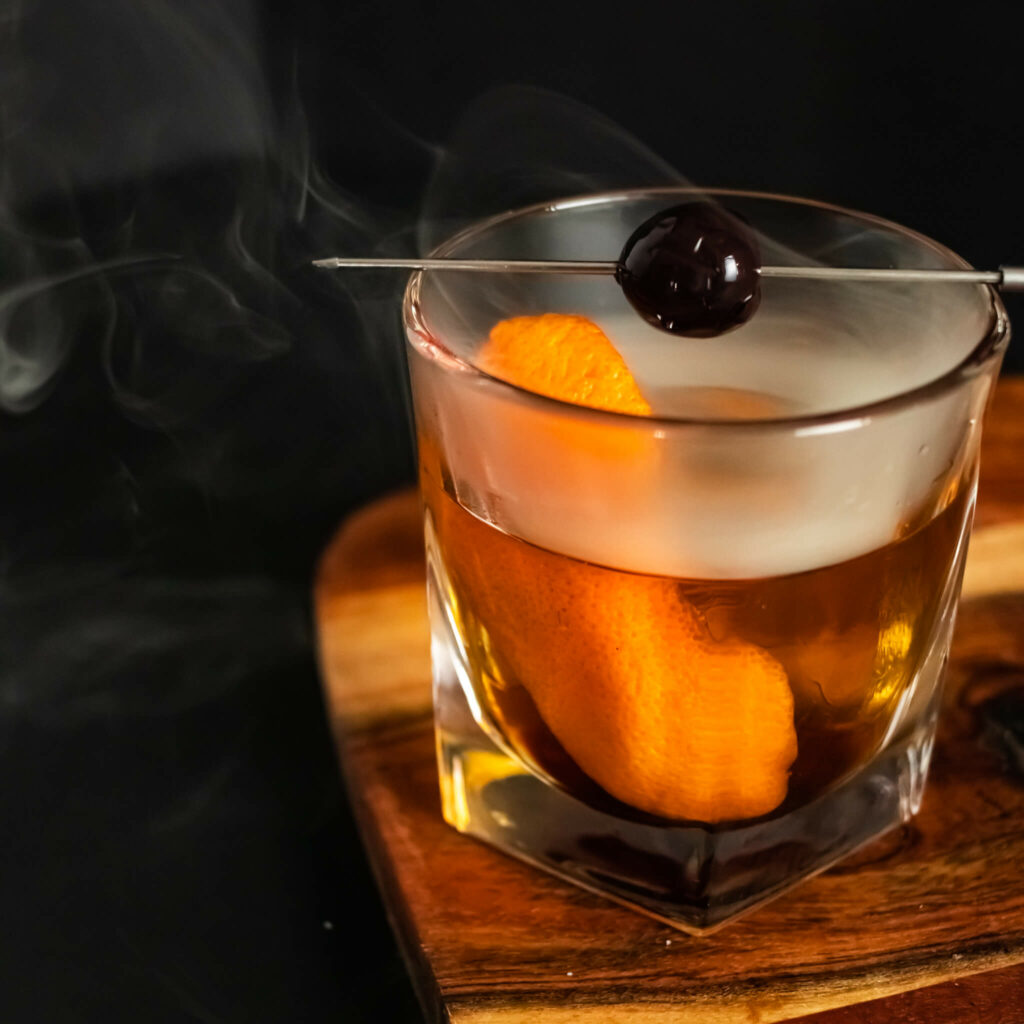 If you are on the market for a cocktail smoker, Smokeshow offers one of the best cocktail smoker kits out there. The Smokeshow Cocktail Smoker is a handcrafted Walnut Wood Cocktail Smoker and comes with various accessories so you can customize the flavor of your drinks fast.
Smokeshow smoker bundle
With this kit, you'll get an all-new Cocktail Smoker, along with all accessories you need to raise your cocktail game a notch or higher! It's on sale for 30% off for a short period only!
The kit includes the following:
The Smokeshow Cocktail Smoker
Apple, Hickory, Bourbon Barrel Oak & Cherry Smoke Dust
High-performance kitchen torch from Jet
60ml Butane (excludes residents of California)
Free returns and exchanges for 30 days
To use the Smokeshow Cocktail Smoker, prepare your cocktail, set the Smokeshow on top, put smoke dust in the basket, and torch the dust, then let it rest for about 20 seconds and enjoy your smoked cocktail!
Advantages of having Smokeshow Cocktail Smoker Kit
There're advantages to owning your own cocktail smoker kit so you can craft your own recipes at home instead of having to hit the nearby bar for a smoked cocktail. Here's a look:
You can make bar-quality cocktails and enjoy them in the comfort of your own home
Instantly add a distinctive smoky flavor
Make your guests feel special
Discover hundreds of unique cocktail recipes
Designed to fit all standard rocks, shaker and mixing glasses
The design is beautiful and minimalist
It lasts for thousands of uses
User-friendly and intuitive
Fast and efficient
Simple to use
Doesn't require much storage space
A Guide to Smoking Your Cocktails and Drinks
Liquids
If you want to smoke liquid ingredients such as Mint Julep syrup or tomato juice, pour the liquid into a mason jar up to two-thirds full, add smoke and seal, then shake it. Wait till smoke has disappeared to open and taste the ingredients. If needed, increase smoke input. Check the smoke before using the juice to see if it needs to be given a further boost. You can store it in the usual manner.
Wood Infused with Oils or Bourbon
Wood can be enhanced with aromatic oils and bourbon. Simply soak it in these solutions. Even used whiskey barrels are an excellent wood choice for any favorite smoker.
Cedar
The scent of cedar smoke in scotch cocktails makes them taste like cigar boxes when paired with peated whisky. You can also smoke Penicillin or Rob Roy paired with cedar.
Alternatively, if you have cinnamon or rosemary on hand or other woody spices, you can light them. The spices smoke readily, and their aroma enhances any smoking experience.
Wrap-up
Smoke in your cocktails? Why not? After all, smoke adds depth to traditional cocktail recipes and titillates the palate without letting tar or carbon particles get in your body. Smoking traditional cocktail recipes is becoming an increasingly popular technique to create drinks with diverse flavor profiles. You, too, can enjoy this sensory delight in the comfort of your own home. And you don't even need to buy a lot of equipment to achieve the experience.
Depending on the quantity of smoke you want to infuse and the amount of money you want to invest, you can get equipment that suits your desire. You can, however, get the same flavor as a smoking gun by using Smokeshow's $69 Cocktail smoker kit.