Did someone say margs??? Margaritas are just delicious! Spicy Margaritas are yummy. NOW, Smoked Spicy Margaritas, now that is a love language.
Growing up, my family and I would go to our favorite local Mexican Restaurant. My grandfather would always sit down and immediately ask for "the biggest margarita you have". As a kid, I always wondered why he wanted a drink that was larger than my head. Now, as a millennial adult, I understand completely. 😂
Tell Me More!
I am so glad you asked! Okay, so margaritas are just so classic. There are SO many different ways to enjoy a margarita. Shaken? Stirred? Blended? Sugar or Salty rim? Limes or another fruit of choice? Cointreau or Triple Sec? The possibilities are endless. Luckily, for you, this margarita will check all of your boxes.
We chose to make this margarita in a cocktail shaker with a classic lime flavor. We torched and muddled fresh jalapenos for that smack of spicy flavor. It's up to you whether you choose to strain the jalapeno seeds out of it. If you like to live on the dangerous side, I'd say leave them in. 😜 We chose to put Tajin on the rim of this drink, but if you are into the whole 'salty and sweet' thing, then I bet a sugary rim will give you a lovely relief from all of the spice! Finally, we smoked it with
Shoot! My Smoker Doesn't Fit my Margarita Glass!
That's okay! Don't panic! We know our smoker will not fit most large margarita glasses! The solution for this is to simply smoke you margarita in the cocktail smoker or mixing glass and then pour it into the glass of your choosing. No worries!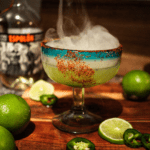 Print Recipe
Smoked Spicy Margarita
A spicy and smoky twist on a classic margarita! With tangy limes, spicy jalapeños, and billowing smoke, you'll be breathing dragon fire!
Equipment
Knife

to slice the jalapeños

Citrus Press

Cocktail Shaker

Muddler

Strainer

Plate for seasoning rim

Margarita glass

Smokeshow Cocktail Smoker

Torch
Ingredients
Cocktail and Smoke
1 1/2

oz

Tequila

1

oz

Cointreau

3/4

oz

Fresh Squeezed Lime Juice

6

Charred Jalapeño Slices

Hickory Smoke Dust
Garnish
1

Lime Slice

1

Jalapeño Slice

Tajin for Rim
Instructions
Cocktail
Using Tajin or Chili Lime Seasoning, rim your margarita glass for an extra punch of flavor and set aside!

Slice and dice! Slice your jalapeño (leave seeds in for extra spiciness!)

Using your torch, torch the jalapeño slices on a safe surface such as a pan or plate. Set aside.

Squeeze limes and set aside.

3/4 oz Fresh Squeezed Lime Juice

In a cocktail shaker, muddle the charred jalapeño slices.

6 Charred Jalapeño Slices

Pour ingredients into cocktail shaker with ice and SHAKE.

1 1/2 oz Tequila,

1 oz Cointreau,

3/4 oz Fresh Squeezed Lime Juice

Double strain into your margarita glass of choosing. (If margarita glass is too large of an opening for the Smokeshow to fit top, smoke the drink in the cocktail shaker, then strain into a glass.)
Smoke
With a pinch of Hickory Smoke Dust, smoke your margarita for about 10-15 seconds and wait for up to one minute to remove the Smokeshow.
Garnish
Skewer your lime slice and jalapeño slice! Enjoy!